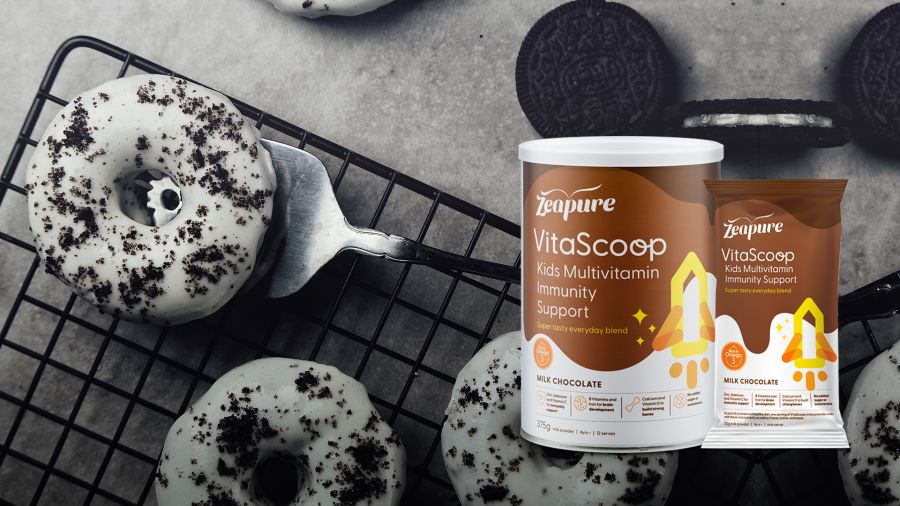 If you love Oreos, then this recipe is for you! Made with Zeapure® VitaScoop Kids Multivitamin Chocolate Milk Powder, this moreish dessert is sure to be an instant favourite in your household.
Prep Time

30 min

Cook Time

10 min

Total Time

40 min

Yield

Serves 6
Ingredients
For the donuts:
For the white chocolate frosting:
3 tablespoons milk
1 3/4 cups confectioner's sugar
1 teaspoon pure vanilla extract
1/2 cup white chocolate chips
2 oreos, crushed into fine crumbs
Cooking Instructions:
1
Preheat oven to 350 degrees F (180 degrees C). Spray a donut pan with nonstick spray. Set aside.
2
In a large bowl, whisk together egg, milk, oil, vinegar and vanilla until combined. Next, add baking powder and salt. Mix until incorporated. Add brown sugar and whisk until combined. Whisk in Zeapure Vitascoop Kids Multivitamin Milk Powder (Chocolate) and flour until a smooth batter forms. Fold in crushed oreos.
3
Transfer batter to quart-sized ziplock bag. Seal, cut off one corner and pipe batter into the donut molds. Place donut pan into the oven and bake for 10 minutes or until a toothpick inserted in the middle comes out clean. Remove donuts from the pan and place donuts on wire racks to cool.
4
While the donuts are cooling, prepare the glaze. In a medium bowl, whisk together milk and confectioner's sugar. Add vanilla and whisk until smooth.
5
In a small heatproof bowl, melt white chocolate chips in the microwave in 15 second increments until completely melted. Add melted white chocolate to the glaze and whisk together.
6
Dunk donuts into the glaze, sprinkle with crushed oreos and let sit until set (or place donuts into the fridge for a couple of minutes to speed up the process).