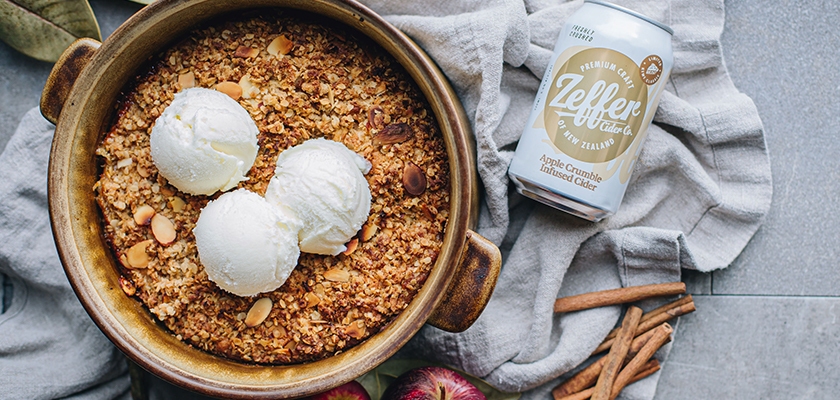 You will love this beautiful take on a classic apple crumble: a light sponge studded with sweet-tart Granny Smith apples topped with a cinnamon and brown sugar-coated mixture of crunchy almonds, coconut and oats. Easy to prepare using a few all-natural, simple ingredients and delicious to enjoy with fresh cream or vanilla ice cream. And of course, a glass of Zeffer's Apple Crumble Infused Cider pairs perfectly too.
Prep Time

5 min

Yield

Serves 1
Ingredients
Filling:
8 apples (Granny Smith, or mixture of Granny Smith and other varieties)
¼ cup of sugar
½ cup of water
Crumble topping:
½ cup of rolled oats
2 tablespoons desiccated coconut
2 tablespoons sliced almonds
1 tablespoon brown sugar
½ teaspoon ground cinnamon
80g butter, softened
Sponge:
125g butter, softened
½ cup of sugar
2 eggs
1 cup of flour
2 teaspoons baking powder
½ teaspoon ground cinnamon
2 tablespoons milk
Cooking Instructions
1
Preheat oven to 190 degrees C fan bake.
Prepare filling:
2
Peel, core and slice apples, and place into a medium saucepan with the sugar and water.
3
Cook over a medium heat with the lid on, stirring occasionally, for about 5 – 6 minutes.
4
Carefully drain off excess liquid, and spread apple evenly into a medium sized baking dish.
Prepare crumble:
5
In a bowl mix all of the dry crumble ingredients together thoroughly.
6
Rub in the butter until the mixture is combined and crumbly. Set aside.
Prepare sponge:
7
Cream butter and sugar until light and fluffy.
8
Add eggs, one at a time, beating well after each addition.
9
Sift flour, baking powder and cinnamon into the creamed mixture and fold in until combined.
10
Add the milk and mix to combine.
Create the pudding:
11
Spoon the sponge mixture evenly over the fruit (which should still be warm).
12
Sprinkle the crumble mixture evenly over the sponge.
Bake at 190 degrees C for 25 to 30 minutes or until golden, and a skewer comes out clean.
13
Serve warm with fresh cream or ice cream.
This recipe pairs perfectly with: