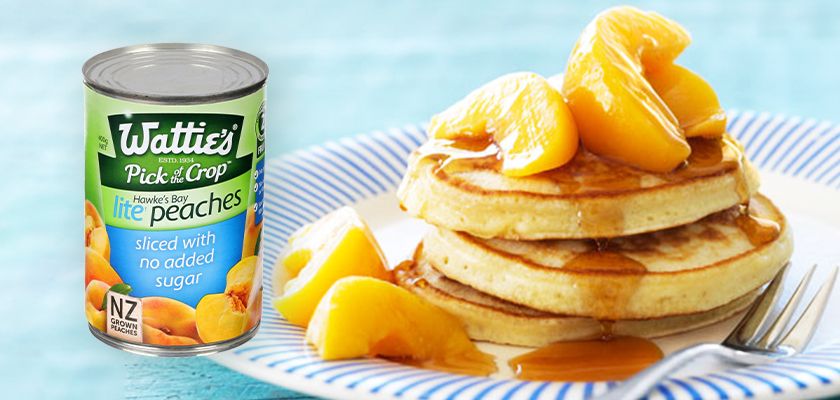 This pancake recipe is guaranteed to be a hit with kids and adults alike. Fun and super easy to whip up, these pancakes are light, fluffy and are super yummy especially when served with Wattie's Peaches and maple syrup.
Prep Time

10 min

Cook Time

10 min

Total Time

20 min

Yield

Makes 14
Ingredients
1½ cups flour
1 Tbsp baking powder
3 Tbsp sugar
1 cup milk
2 eggs
2 tsp vegetable oil
410g can Wattie's Peaches Lite Sliced with No Added Sugar
Maple Flavoured Syrup
Cooking Method
1
Sift the flour and baking powder into a mixing bowl. Stir in the sugar. Make a well in the middle.
2
In another bowl beat together the milk, eggs and oil. Pour into the flour and stir until you have a smooth batter. Cover and stand for 10 minutes.
3
Heat a non-stick pan with a little oil. Pour in ¼ cup of the batter mixture and cook over a medium to low heat for approximately 2 minutes, or until bubbles appear on the surface. Turn the pancake and cook the other side for about a minute. Repeat until all the batter is used up.
4
To serve stack 3 pancakes on a plate with Wattie's Peaches, and pour over maple syrup.