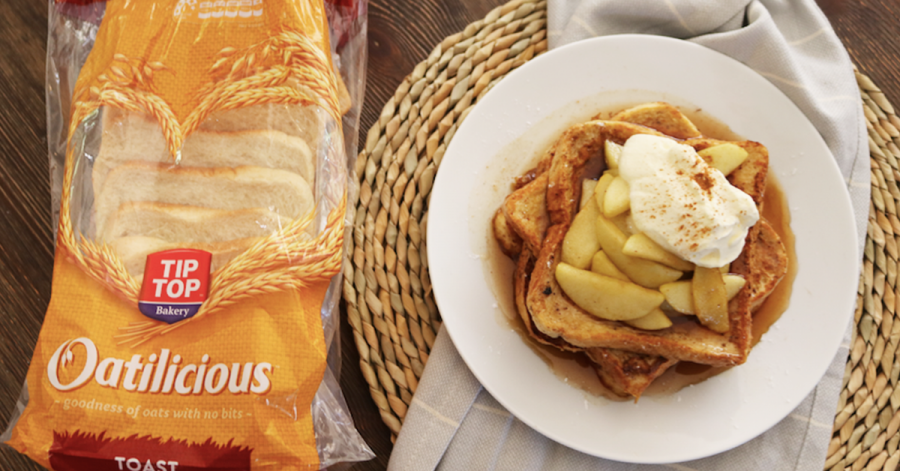 Step up your mornings with this delicious take on the beloved French toast, made using Tip Top's Oatilicious bread. 
Prep Time

20 min

Cook Time

30 min

Total Time

50 min
Ingredients
For the French toast:
6 slices of Tip Top Oatilicious
3 large eggs
3/4 cup milk
½ tsp ground cinnamon
½ tsp ground nutmeg
1 tsp vanilla extract
pinch of salt
For the spiced apple topping:
2 granny smith apples
1/3 cup brown sugar
Juice of half a small lemon
¼ cup of water
½ tsp ground cinnamon
½ tsp ground nutmeg
Cooking Method
Preparing the French toast:
1
In a bowl, beat together all ingredients until combined.
2
Heat a lightly oiled pan over a medium-high heat,
3
Dunk bread in mixture one slice at a time, soaking both sides. Place in pan and cook on both sides until golden.
Preparing the topping:
4
Peel and slice apples into bite-sized pieces.
5
In a sauce pan, add in apples and combine with the rest of the ingredients.
6
Cook on medium heat until apples are cooked but not mushy. 
7
Remove apples from the saucepan leaving the remaining liquid.
8
Put saucepan back on the heat until the remaining liquid becomes syrupy.
9
Remove from heat and add the apples back to the pot.
10
Serve apples and syrup over prepared French toast.
This recipe is from Black Box member, Jay Moore.