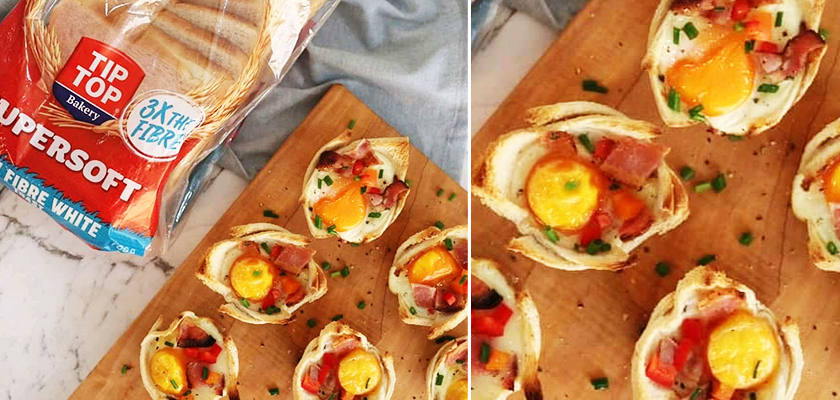 Take your breakfast up a notch with this easy to make breakfast cups recipe courtesy of Black Box member, Jay Moore. Make it with Tip Top's Super Soft High Fibre White Bread for the ultimate on-the-go treat!
Prep Time

10 min

Cook Time

20 min

Total Time

30 min

Yield

6 Breakfast Egg Cups
Ingredients
6 slices Tip Top bread
6 eggs
1/4 cup grated cheese
1/4 cup finely chopped tomato
1/4 cup finely chopped capsicum
2 bacon rashers cut into small pieces (pre-cook in oven for crispier bacon)
Chopped fresh chives to garnish
Salt and pepper to taste
Preparation:
1
Pre-heat oven to 180 degrees and grease muffin tins. 
2
Flatten your bread with a rolling pin and trim off crusts. Press down bread into greased muffin tins and bake for 5 minutes until bread is slightly firm.
3
Fill each cup halfway with a mix of grated cheese, tomato, capsicum, and bacon. 
4
Crack an egg on top of each cup and season well with salt and pepper.
5
Bake for 15 minutes or until egg whites are set and yolk is cooked to desired degree doneness.
6
Garnish with chives and crispy bacon if desired.
This recipe was submitted by Black Box member, Jay Moore.