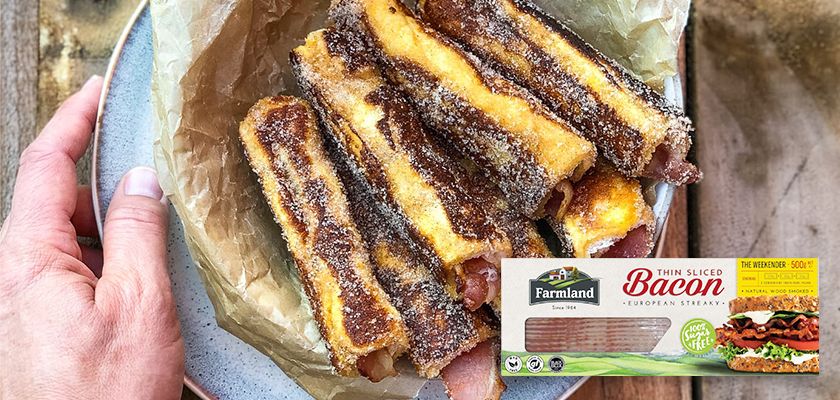 Take your French Toast to the next level with Farmland Foods European Streaky Bacon! Thinly sliced for extra crispiness, this is sure to add a delicious crunch to your savoury-sweet treat. 
Prep Time

5 min

Cook Time

10 min

Total Time

15 min

Yield

Makes 2 Servings
Ingredients
8 – 12 slices of fresh white sandwich bread
2 eggs
3 tablespoons milk
1/3 cup sugar
1 teaspoon ground cinnamon
1 tablespoon butter
8 -12 rashers of Farmland Foods streaky bacon
Maple syrup for serving (optional)
Preparation:
1
Cut crusts from slices of fresh white sandwich bread.
2
Mix in a bowl, eggs and milk. In another bowl, mix sugar and cinnamon and set aside.
3
Once bacon is cooked, place each piece in the bread and roll around the bacon, squeeze together to firm.
4
Coat rolls in the egg mixture. Place in a hot pan with butter. Cook each side for 3 minutes or until golden.
5
Once cooked roll in cinnamon and sugar mixture and drizzle with maple syrup.