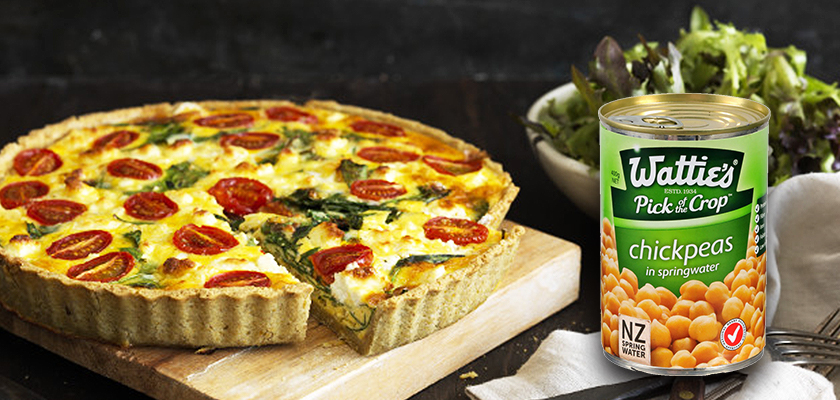 Using Wattie's Chickpeas in Springwater as the crust, this healthy take on the classic quiche features creamy bits of feta crumbled throughout.
Prep Time

15 min

Cook Time

45 min

Total Time

1 hr

Yield

Serves 6
Ingredients
¾ cup ¾ cup (100g) flour
2 Tbsp olive oil
400g can Wattie's Chickpeas in Springwater, drained
1 onion, finely chopped
1 cup tightly packed baby spinach leaves
75g feta, crumbled
6 eggs
¾ cup trim milk
8 cherry tomatoes, halved
Cooking Method
1
Preheat oven to 200°C. Place flour, olive oil and Wattie's Chickpeas into a food processor. Process until the chickpeas are finely chopped and mixture looks like crumbs. Turn the pastry onto a board and bring it together with your hands. Knead lightly until smooth. Roll out pastry on a lightly floured board and line the base and sides of a loose bottom 22cm flan tin.
2
Line the flan base with baking paper and, to blind bake, fill with baking beans. Blind bake the pastry for 10 minutes. Remove the baking beans and paper and return to the oven for a further 3-5 minutes, until the surface of the pastry has dried out. Set aside to cool. Reduce oven temperature to 180°C.
3
Heat a dash of oil in a saucepan. Add the onion and cook over a medium heat until onion is soft.
4
Place the onion in the base of the flan. Top with baby spinach leaves and crumbled feta.
5
Beat the eggs and milk together. Season. Carefully pour into the flan base. Top with tomato halves, cut side up. Bake for 25-30 minutes until the egg has set. Stand for 5 minutes before serving. Serve with a fresh green salad on the side.