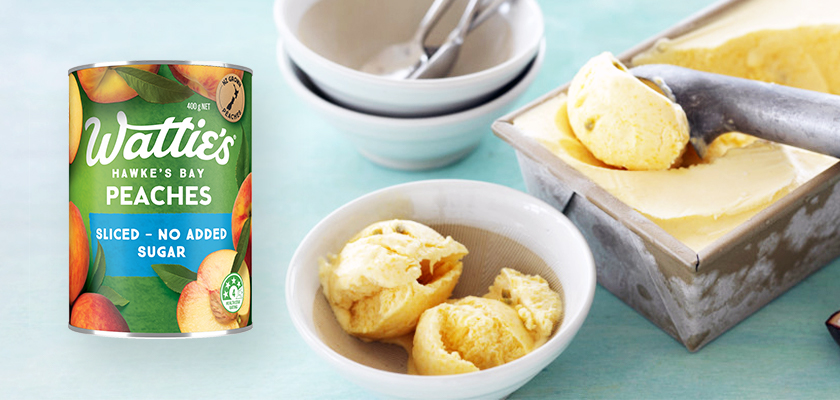 What better way to enjoy Wattie's Lite Peaches than making your very own homemade ice cream? This quintessential summer treat is sure to be a smash hit with friends and family alike. 
Prep Time

30 min

Cook Time

5 min

Total Time

35 min

Ready in

4 hours

Yield

Serves 8
Cooking Method
1
Grease and line the base and sides of a (1 Litre capacity) loaf tin with cling film.
2
Whisk egg yolks and sugar together until thick and pale.
3
Heat ½ cup of the cream in a saucepan until nearly boiling. Pour over the eggs and sugar mixture and stir constantly. Return custard to the saucepan and stir constantly while heating on low heat until it coats the back of a spoon. Do not allow it to boil as the eggs will scramble. Remove from the heat and pour into a bowl. Place a piece of clingfilm onto the custard to avoid a skin forming and stand until cold.
4
Drain Wattie's Lite Peaches, discarding the juice. Puree peaches in a food processor or blender. Whisk the remaining 1 cup of cream until soft peaks form.
5
Stir the peach puree and passionfruit pulp into the cold custard. Fold in the whipped cream. Pour into the prepared loaf pan. Cover with clingfilm and freeze until firm. This will take at least 4 hours.
6
To serve, remove from the loaf tin. Allow to sit in the fridge for 10 minutes to soften a little before scooping. Serve with extra peach slices and fresh passionfruit spooned over the top.
Top tips:
A disposable foil loaf tin is a good alternative. We used a large foil tray 220mm x 146mm x 56mm available from most supermarkets.
Ways to use your egg whites

Egg whites can be frozen. Be sure to mark the number of egg whites in the container.
Use to make meringues or pavlova.
Use to make an egg white omelette.
This recipe is courtesy of Wattie's Food In A Minute.