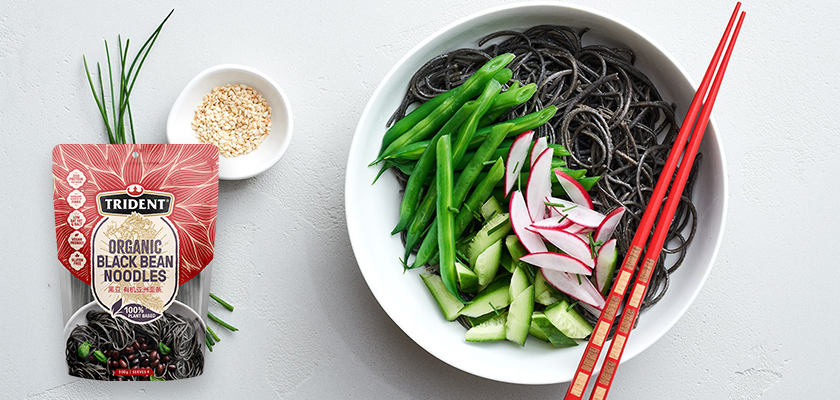 If you're looking for a light and healthy lunch recipe, then you've come to the right place. Make this delicious noodle bowl with Trident's Organic Black Bean noodles for a meal that's filling, nutritious and super easy to make!
Prep Time

10 min

Cook Time

5 min

Total Time

15 min

Yield

Serves 4
Cooking Instructions
1
To make the dressing, mix together the brown rice syrup, almond butter, lemon juice, oils, soy sauce and vinegar.
2
Bring a large saucepan of water to the boil, then crumble in the vegetable stock cube. Cook the noodles for 3 minutes until bite-tender. Drain, then rinse well under cold water. Drain again. Place in a large bowl and drizzle over half of the dressing, tossing to combine.
3
Place noodles in 4 bowls along with the beans, radish slices and cucumber. Drizzle over enough dressing to moisten and sprinkle with the toasted sesame seeds. Finish with the snipped chives.
This recipe is courtesy of Trident Foods NZ.