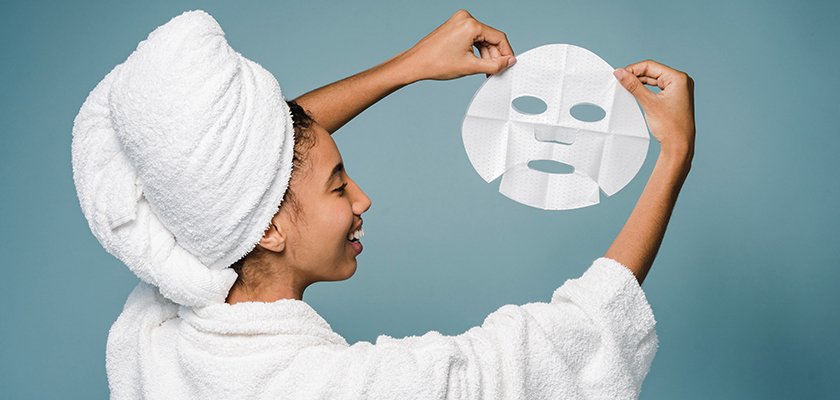 One of the best ways to give your skin an instant boost is to use a sheet mask. They're affordable, easy to use, relatively mess-free and only takes 20 minutes to work!
Oh, and did we mention they're packed with concentrated nutrients your skin will oh-so-love?
RELATED: How to wash your face: 7 tips to follow
RELATED: How to choose the best sunscreen for summer and beyond
However, the kicker is this: as amazing as they are, oftentimes you can only get a single-use out of these masks. It is not recommended to reuse them as doing so can reintroduce dirt and bacteria from your face.
­ To get more uses out of your sheet mask and really reap its benefits, ahead we list these five simple tips and tricks:
1. Start with a clean face
If you want all the goodness of the sheet mask ingredients to fully sink into your skin, we recommend starting with a clean face.
This means skin that is free of any excess oils, products or any of the like as it can act as a barrier between your skin and the sheet mask if not properly removed.
To ensure your face is deeply cleansed and ready to absorb all the goodness from the mask, use a gentle exfoliant after your cleanser to remove any build-up of dead skin cells.
2. Squeeze, squeeze, squeeze!
The thing about sheet masks is they almost always have too much serum in the packet. Rather than letting it go to waste, gently squeeze the excess while it's still in the pouch and pour into an air-tight container after you remove your sheet mask to use it.
You can keep it in the fridge for later use and apply with your fingers or a roller. Alternatively, soak up cotton rounds with the excess serum if you want more targeted treatments, like under your eyes or over your T-Zone.
3. Cut it up
Don't let the excess flaps on your sheet mask go to waste! You can cut these up and later repurpose as eye masks.
Simply store them in an air-tight container or secure the pouch with a rubber band for later use.
4. Massage it in
Maximise the use of your sheet mask by applying the excess serum on to the rest of your body. This is particularly helpful on days when you just don't feel like storing the excess for later use.
Massage the serum into your neck, chest, hands or even feet!  
5. Lock in the moisture
The 20 minutes are up and it's time to remove your sheet mask. You might notice it's left some residue on your skin, whatever you do, do NOT wipe this off. Take advantage of the excess essence by gently patting it into your face until fully absorbed.
From there, apply your favourite eye cream and moisturiser to amp up the hydration and seal in the moisture.
Do you have any sheet mask tricks that we might have missed? Tell us in the comments below!