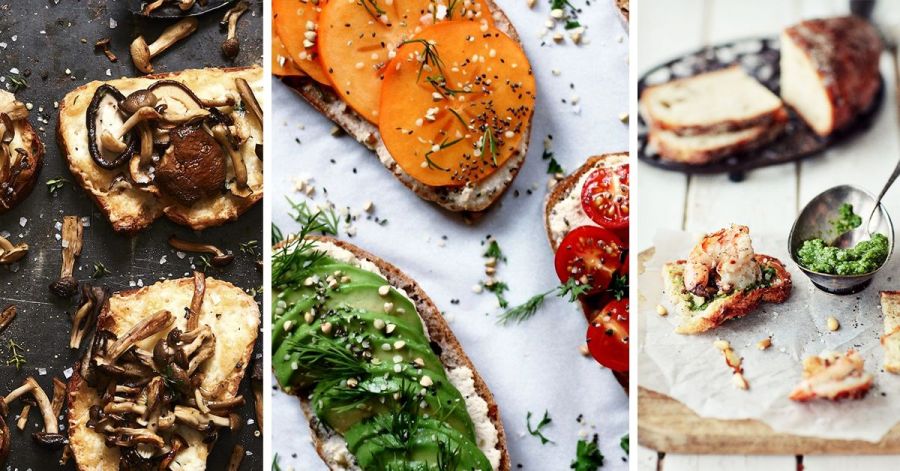 These deliciously moreish vegan toppings by plant-based blogger, Two Spoons, is the perfect combination of sweet, salty and savoury. 
Starting with a thick layer of cashew cream cheese as the base, each slice is then topped with various veggies, fruits and herbs. Make it your own and include your favourites – the key is to not be afraid of mixing opposite flavour combinations.
If your breakfast toast just isn't cutting it anymore, give this easy and delicious toast topping a try! Featuring an unbeatable combo of nut butter, banana slices, fresh blueberries and just a sprinkling of cinnamon spice – this is a toast recipe that's sure to kick-start your day in the best way.
The simplicity of this dish makes it a winner in our books. No cooking is required (except for toasting the bread) and you only need 20 minutes to make it. Quick, easy and delicious? Yes, yes and yes!
If you're looking for the perfect weekday meal to impress your friends and family – then look no further! The Gaia Health Blog shares his science-backed tips and tricks for fool-proof homemade pesto and the most succulent prawns.
The roasting process in this recipe gives the grapes a wonderfully warm, sweet burst of flavour that pairs perfectly with the creaminess of the ricotta. Topped with rosemary, honey and crunchy pinenuts – make it this weekend for a delicious brunch that requires minimal effort!
This Mexican-inspired topping is made for days lounging under the sun. The smokiness from the corn gives this dish an irresistibly good taste you'll be craving all summer long!
You can't go wrong with the classic pairing of mushrooms and cheese. Try this hearty and flavourful recipe for a meal that everyone will surely enjoy!
What toast toppings are you trying? Let us know in the comments below!