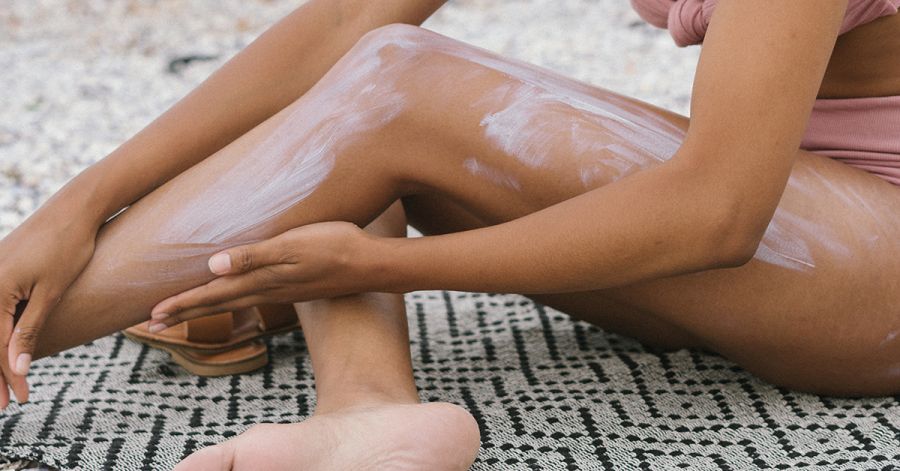 With summer right around the corner, it's time to start thinking about the kind of sunscreen we'll be taking with us during everyone's favourite season. While it's advised to use sunscreen all year round, it's even more important during summertime as the days are longer, the sun is stronger, and we generally spend more time in the great outdoors.
RELATED: What's your skin type? Here's how to tell
RELATED: How to wash your face? 7 tips to follow
What's more, protecting our skin from the sun's powerful UV rays is essential in reducing the risk of painful sunburns, skin cancer and premature signs of ageing like dark spots and wrinkles. But with so many sunscreens to choose from in the market, how do we know which one is best? Ahead, we give you the low down on what to look for when buying a bottle to take for the sunnier days ahead. 
Look for sunscreens with "broad spectrum" protection
According to Cancer.org, sunscreens with this label protect against both UVA and UVB rays – two types of UV lights that can seriously harm the skin. UVA is known to cause early signs of skin ageing, including sunspots and wrinkles, while exposure to UVB rays can lead to painful sunburns. Prolonged exposure to both is said to cause skin cancers.
Only products that pass the FDA's standardized test can be labelled "broad spectrum" and the higher the SPF value, the greater protection it offers from harmful UVB rays.
So, make sure to check the label on your next shop to make sure your skin gets maximum protection this summer and beyond.
"Water-resistant" does not mean waterproof
When your outdoor activities include swimming and working up a sweat, choosing a water-resistant sunscreen is key in making sure the product stays on your skin. However, it's important to remember to REAPPLY every few hours to remain protected under the sun.
Water-resistant sunscreens are generally formulated to last on the skin 40-80 minutes after getting wet. This should clearly be stated on the label of the packaging, and if it isn't? Don't buy it!
Important note: always apply water-resistant sunscreens 15 minutes BEFORE heading out in the sun.
Choosing the right formula
The two main formulas for sunscreens are chemical and physical/mineral sunscreens.
Chemical sunscreens are made with organic/carbon-based compounds like oxybenzone, octinoxate, octisalate and avobenzone, which create a chemical reaction by converting UV rays into heat, then releasing that heat from the skin. They are known to be easily absorbed by the skin and are usually thin in consistency making them ideal for everyday use.
Physical or mineral sunscreens, on the other hand, work by sitting on top of the skin and blocking damaging UV rays thanks to the active minerals present in its formula. Its effect is almost instant when applied and can be prone to wearing off easily.
While both offer protection from UVB rays, choosing the right one for you and your family is dependent on the activities you plan to do and your skin type ofcourse.
Speaking to Piedmont Healthcare, Dr David Harvey MD recommends using physical/mineral sunscreen if you:
Have sensitive skin, as the ingredients present in the formula are generally less irritating

Have dry skin – while the thick consistency of most physical sunscreens can feel heavy on the skin, it can be deeply moisturizing
Meanwhile, opt for a chemical sunscreen if you:
Have plans to go swimming and need a water-resistant formula

Are generally active (play sports and sweat a lot during the day)

Want a fast-absorbing sunscreen
Whether you use one or the other (or both), experts say the best sunscreen is still the one that you enjoy wearing a generous coat of. So, no excuses, lather on that sunscreen before you head out!
What do you look for when choosing a sunscreen for you and your family? Tell us in the comments below!