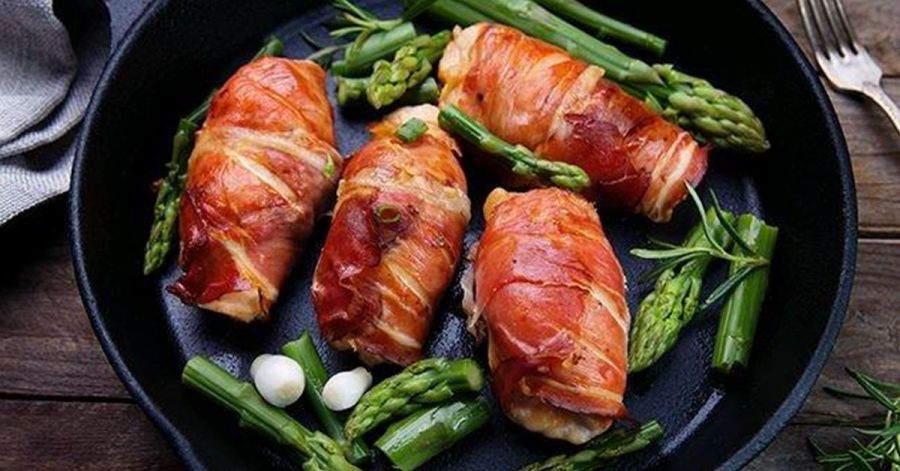 Feeling something a bit fancy for dinner? This easy and delicious prosciutto-wrapped stuffed chicken recipe will have you feeling like a gourmet chef! Made with Hutchinsons Apricot and Almond Cream Cheese, make this for a weekday dinner that's sure to impress family and friends alike!
Prep Time

5 min

Cook Time

30 min

Total Time

35 min

Yield

Serves 4
Cooking Method
1
Heat a BBQ grill or preheat oven to 180 degrees.
2
With a sharp knife, cut a 1-inch long slit into the thick side of each chicken breast. Work your fingers into the slit, and expand to form a pocket in the breast meat. With your fingers or a spoon, stuff each chicken breast with about 1/4 cup of the cream cheese mixture.
3
Wrap each breast in a slice of prosciutto so that the pocket opening is covered.
4
Drizzle chicken with Extra Virgin Olive Oil and season with sea salt and freshly ground pepper.
5
Cook on BBQ grill for 8 minutes each side or brown first in pan and finish in preheated oven (approx. 20 minutes or until chicken is no longer pink and prosciutto is crispy).
6
Remove chicken from grill or oven and rest for 10 minutes before serving.
7
Slice chicken and serve with new season steamed asparagus.