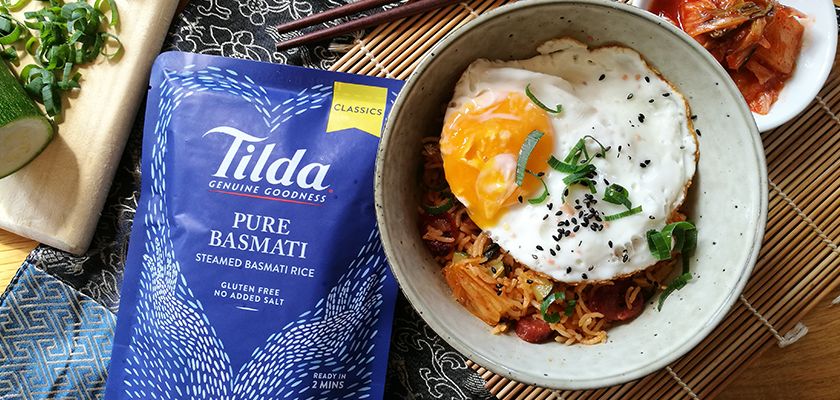 Take your fried rice to the next level with this Korean-inspired Kimchi Fried Rice recipe made with Tilda's Steamed Pure Basmati! Submitted by Black Box member, Benhi Dixon, this tasty recipe is the perfect meal for those busy weekdays!
Prep Time

10 min

Cook Time

15 min

Total Time

25 min

Yield

Makes 2 Servings
Ingredients
2 tsp oil
1/4 onion, finely chopped
1 Chinese sausage, sliced (or 2 rashers streaky bacon)
1/2 tsp garlic
1/2 cup julienned vegies such as courgette and carrot
1/2 cup kimchi with juice, cut into bit sized pieces
1 packet Tilda steamed Basmati rice (about 2 cups)
1/2 tsp sesame oil
1/2 Tbs soy sauce
1 fried egg
Sesame seeds and spring onion for garnishing
Cooking Instructions:
1
Heat the oil in a fry pan or wok, and fry the onion and sausage until they start to brown.
2
Add the garlic and veggies and cook for about 2-3 mins.
3
Add the kimchi, rice, sesame oil, and soy sauce.
4
Mix and cook for 2 mins until hot.
5
Serve with a fried egg and garnish with sesame seeds and spring onion. 
This recipe was submitted by a Black Box Member.