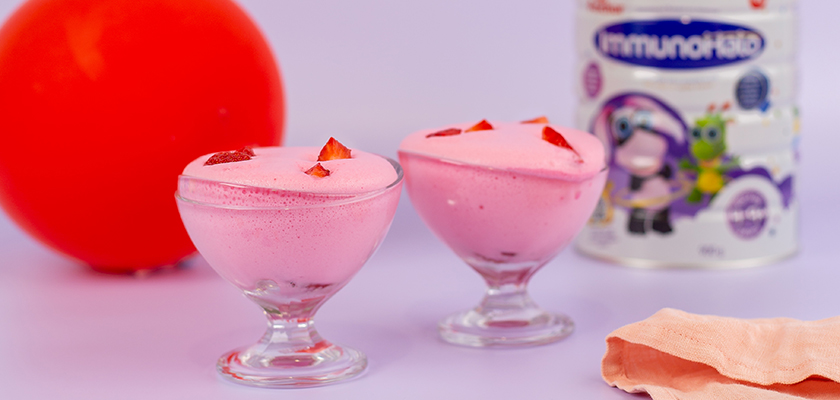 Say hello to Hulk's Secret Smoothie. Made with Anchor's NEW ImmunoHalo, this Hulk isn't mean but it's definitely green, and will be a smash hit with the kids.
Prep Time

10 min

Ready in

2-3 Hours

Yield

Serves 2
Ingredients
½ sachet, sugar free strawberry or raspberry jelly crystals (see tips)
125ml boiling water
100ml lukewarm water
6 tablespoons Anchor™ lmmunoHalo™
1 cup chopped strawberries, rinsed, hulled and coarsely chopped
Method
1
In medium bowl combine the jelly and boiling water and stir till dissolved. Place in the freezer to cool but not set. Around 30 minutes. 
2
In a small bowl combine the lukewarm water and Anchor™ lmmunoHalo™ and whisk until fully combined. Chill in the freezer while the jelly cools. In a large bowl combine the cooled jelly and the chilled Anchor™ lmmunoHalo™ mixture. 
3
Using an electric beater, beat the mixture until pale and fluffy 2-3 minutes. Pour into 2 dessert glasses, scatter in ½ the chopped strawberries and chill in the fridge until set – approximately 1 hour. 
4
Serve topped with remaining chopped strawberries. 
Tips: Sugar free jelly sachets range from 9-11g depending on the brand so just use ½ of whatever size sachet you have. If using regular jelly crystals, again, just use ½ the packet.
This recipe is courtesy of ImmunoHalo™ by Anchor™.