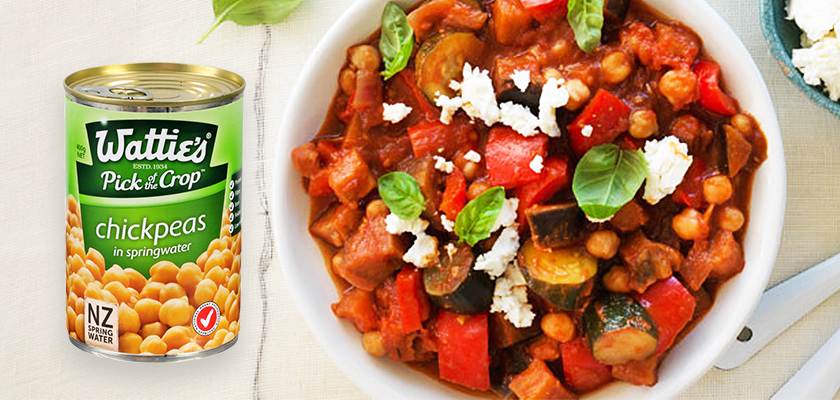 This colourful and summery version of ratatouille is easy to put together and is packed with an extra dose of protein thanks to Wattie's Chickpeas in Spring Water. It's a great vegetarian option to bring to summer barbecues. Serve hot or at room temperature as a salad. 
Prep Time

10 min

Cook Time

25 min

Total Time

35 min

Yield

Serves 6
Method
1
Heat 2 tablespoons of olive oil in a saucepan.Add chopped red onion and cook over medium heat until onion softens. Add garlic and cook a further minute.
2
Stir in tomato paste. Add courgettes, eggplant and red capsicum and stir cooking for a further minute. 
3
Pour over Wattie's Chopped Tomatoes and stir while bringing to. the boil. Reduce heat. Cover and simmer for 15 minutes.
4
Add Wattie's Chickpeas and continue cooking for a further 5-10 minutes until the vegetables are tender. Stir through 1-2 tablespoons of basil pesto before serving. Season to taste.
5
Serve hot as a side dish with grilled chicken or fish or at room temperature as a salad garnished with crumbled feta