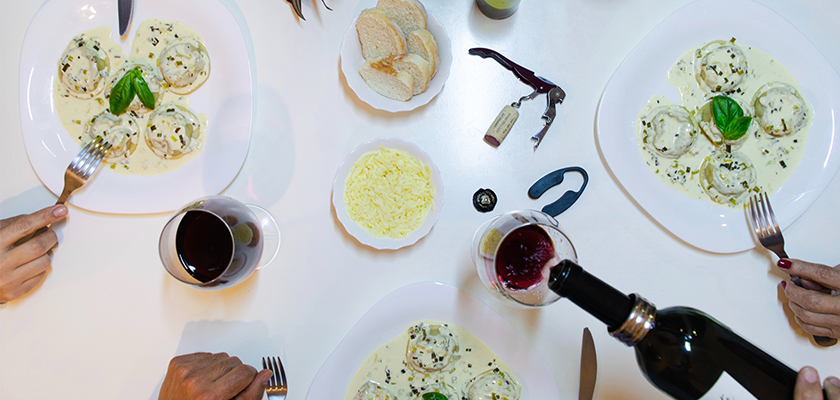 While this silly season is all about relaxing, making memories and sharing great meals with the people we love, if you're playing host this year then being home for the holidays can mean a whole lot of prepping, budget-breaking, shopping lists and ofcourse the challenge of getting everything done on time.
RELATED: 7 tips for the perfect cheeseboard
RELATED: Must-know life hacks for summer gatherings & beyond
Now before you run for the hills, it's important to remember that parties and gatherings are all about the people who are there. So, if you're stressing yourself out so much that you forget to enjoy the company of your loved ones then, newsflash: you're doing it wrong.
Here are some simple tips and tricks that will keep you cool as a cucumber, while making holiday entertaining easier, more delicious and super fun!
1. Set realistic goals
We cannot stress this enough! There's nothing wrong with wanting to throw the BEST. PARTY. EVER. But when planning the bits and pieces for your next soiree, it is important to adjust your expectations to be more realistic.
Write a list of what you want to do and evaluate whether or not you have the time and energy to accomplish it. If not, readjust it to something more doable that you and your guests will still enjoy!
2. Outsource it!
If cooking isn't your strongest suit, don't feel pressured to make everything from scratch. When in doubt, outsource it! Pre-made foods are guaranteed to save you time, energy and stress from cooking in the kitchen.
3. Clean strategically
Entertaining hacks are all about saving yourself time and effort, so let yourself off the hook and only clean the areas in your house where you will be hosting guests.
Seriously, if you regularly clean your house, a deep clean of the whole home is not realistic.
However, if it's really due for a thorough clean up – don't leave it to the last minute! Work your way towards cleaning every room in the house on the lead up to your big event. No mess, no stress, just fun times with guests!
4. Prepare napkin rolls in advance
Here's a table setting hack that's easy to make and will save some time on the day of your gathering. Take a fork and knife and roll it up in a napkin, securing it with a piece of twine or washi tape – and that's it! These DIY napkin rolls will look great on your table setting and the best part is they take almost no time to make!
5. Use mobile applications to help you plan better
If you're the kind of person that thrives off of to-do lists, then this is for you! The online world is brimming with applications that all strive to make your party-planning easier from finding the best wine pairing to sending cool-looking e-vites, the possibilities are endless. 
Check out this list from iMore for the best mobile apps to help make party planning a breeze. 
6. Keep the menu simple 
It might be tempting to want to impress guests with gourmet food, but at the end of the day, they're coming for a homemade meal and a fun night out not dining at a Michelin-starred restaurant. 
Unless you're a serious pro in the kitchen, choose delicious and tried-and-tested recipes that you can prep earlier in the day or the night before. 
7. Take it easy with yourself 
Listen, if something goes "wrong" it's not the end of the world. Give yourself some grace and forget the imperfections! Your guests won't care, and you shouldn't either. Do your best and have fun, remember it's all about spending quality time and creating memorable moments with the ones you love.